Market value of Macau gaming stocks evaporated by US$3.5 billion in March, investors continue to invest cautiously
Publish Date:2022/3/11 11:23
Nearly $3.5 billion has been wiped off the market value of Macau's gaming operators since Friday, as investors continue to show caution in the gaming industry.
Shares in the Hong Kong-listed entities of the six major gaming companies fell sharply in the 72 hours from Friday's close to Monday's opening. The biggest decliner was Melco International Development Co., Ltd., whose shares fell sharply by 7.9% to HK$6.97. Melco International is the controlling shareholder of Melco Crown Entertainment.
SJM Holdings fell 7.4% to HK$3.75, Sands China fell 7.2% to HK$18.44, MGM China fell 6.4% to HK$4.52, Galaxy Entertainment Group fell 5.5% to HK$39.85 and Wynn Macau fell 5.0% to HK$6.14.
The combined market value of the six companies fell by HK$27.1 billion, or 6.3%, to HK$403.6 billion ($3.47 billion).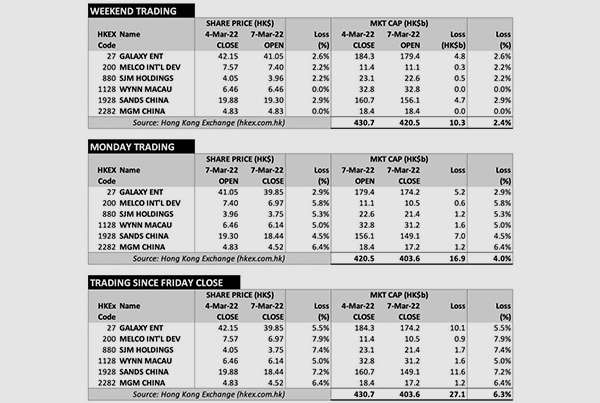 It is not clear what caused the stock price to fall. However, the Macau SAR government announced earlier that the current 20-year franchise for all six gaming companies will be extended by six months from the previous period of June 26, 2022, to December 31, 2022.
Amendments to Macau's gaming law are expected to be passed by the Legislative Council by June, while the re-tendering process for the franchise will take place in the second half of this year.
Macau gaming stocks lost 26 percent of their market value of about HK$143 billion ($18.4 billion) in a single day after the government first announced proposed amendments to the gaming law in September last year. Since then, the market value has been gradually recovering.