LPGA Comes To Gambling-Happy New Jersey — But Ignores Sports Betting
Publish Date:2022/5/17 17:12
No sportsbook signage at weekend event in Clifton, not even for tour partner BetMGM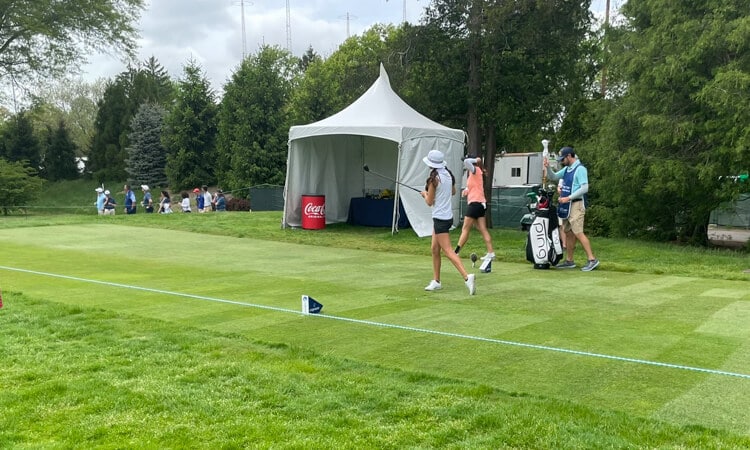 The LPGA Tour held its latest event, this weekend's Cognizant Founders Cup, in New Jersey, the state with the biggest legal sports betting handle in the U.S. since Nevada lost its monopoly on the activity with a Supreme Court ruling in 2018.
But during a visit Saturday to the golf tournament at Upper Montclair Country Club in Clifton — only about a dozen miles west of Manhattan, where mobile betting became legal in January, propelling New York to take over as the nation's highest volume state in monthly handle — on the fourth anniversary of the landmark court ruling, there seemed to be no evidence on the course whatsoever that such wagering is legal.
Women's tour officials have talked a good game about sports betting, and last May, BetMGM became the LPGA's first official betting partner.
But at a tour event near Atlantic City last fall, a BetMGM official told NJ Online Gambling that the company would not offer "signage or activations" at the course to promote the partnership.
Brian Carroll, senior vice president of global media distribution for the LPGA, said a year ago, "We are happy to partner with [BetMGM] as we look to provide more opportunities for our fans to interact with the LPGA and learn about our incredible athletes."
An on-site booth or suite presumably would have landed some new mobile accounts, as employees could assist patrons in downloading the app. But NJ Online Gambling saw no evidence last weekend of such a booth, and a media member who covered the event said that they did not hear any mention of betting at any time before or during the event.
An LPGA spokesperson told NJ Online Gambling that "not every tournament highlights LPGA betting. The Bank of Hope Match-Play event [in Las Vegas on May 26-29] will definitely have larger sports betting presence."
Some players are betting backers
Sports betting seemed like it would become more ingrained in the women's tour in January, with the announcement that IMG Arena, already a partner of the PGA Tour, Major League Soccer, and other sports organizations, had come aboard. BetMGM is a partner of IMG Arena as well.
"IMG Arena is the undoubted leader in producing golf sports betting content, through its game-changing Event Centre," Carroll said in a statement in January. "With the full LPGA Tour covered, this is a significant commercial partnership that helps grow the game with thrilling content reaching new audiences and driving fan engagement around the world."
IMG Arena's casino and sportsbook partners receive from IMG Arena live LPGA Tour leaderboards, course information, and a livestream of LPGA broadcasts.
In 2021, Tour player Danielle Kang — who has her own partnership deal with BetMGM — told Golf Digest, "I believe [legal betting will] definitely help because it's a huge part of golf. Golf itself is a gambling sport.
"I want people to have fun playing one-on-one, head-to-head, bet on people they want to bet on. I think that'll bring more interest into the game."
Mel Reid, another veteran player, added, "People love to bet. They'll bet on anything. They'll bet on horses, dogs. Hopefully, we're not the bottom of the food chain."
Sports betting's PGA Tour presence
Contrast the LPGA scenario last weekend with a PGA Tour North Jersey event — the first round of the FedEx Cup's playoff series — that was held in Jersey City in 2019 and 2021.
In 2019, a little over a year after sports betting was legalized in New Jersey, the sports betting presence was a hard-to-find outpost near the 13th green, well over a mile from the entrance. That was FanDuel's "First Round Beer Garden," where those spectators who went the distance were instructed by employees on how to download the FanDuel app on their smartphones. (The only retail wagers in New Jersey take place at racetracks or Atlantic City casinos, but mobile betting is available anywhere in the state.) There were no pre-event press releases or other lures; mobile spectators had to stumble onto news of the mobile option.
But by 2021, the "DraftKings House" was prominently located near the 16th tee. The corporate tent and the signage mirrored those of more traditional longtime sponsors. Betting had gone mainstream at this PGA Tour event. Visitors who expressed any interest were informed that for a $500 deposit to a new DraftKings account, a player would receive an instant $250 bonus.
Bet-free broadcast, too
The two-hour Golf Channel broadcast of the LPGA Tour third round on Saturday mirrored the situation at the golf course: not a single mention of sports betting, and no gambling commercials of any kind.
That's in contrast to the PGA Tour, where depending on the network and the event, for the past few years gambling has become integrated into the broadcast.
Even back in 2020, the telecast of the CJ Cup, which happened to take place in Las Vegas, featured plenty of betting references. When highly ranked player Justin Thomas arrived at the tee of a drivable par-4 11th hole, he was listed on the screen with BetMGM odds at +200 for "birdie or better," -154 for par, and +550 for "bogey or worse." One announcer then explained that a wager of $100 for a birdie would produce a $200 payout if Thomas succeeded — as he did.
PGA Tour executive Norb Gambuzza told a virtual audience for a Sports Betting USA virtual panel later in 2020 that the tour had taken precautions now that sports betting was legal in a growing number of states.
"We have all these sports betting media partners who want players to participate in a panel to talk about 'who's going to win, who's going to go low, who plays well in the rain or the wind,'" Gambuzza said. "We have to make sure those guys understand that you can talk about that to a certain extent. But if you start talking about who's injured — 'Oh, I saw him hobbling on the range' — that's nuance where the only way to really attack that is frequent and direct communication."